Buffalo Stampede Slots
Introduced to Las Vegas in 2013, the new Buffalo Stampede slot machine is likely to be one of the biggest hits for a long time.
The guys that make the game, Aristocrat Gaming, have done a great job and although they increased the cost per spin up to 75 cents minimum, it is a wonderful game. One of those games that is worth saving up for to play!
Looking for the free version? Play Buffalo Slots Online for Free or Real Money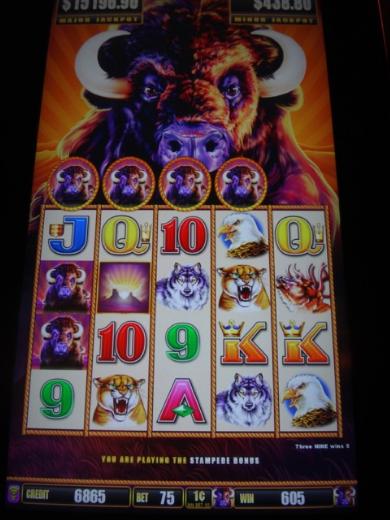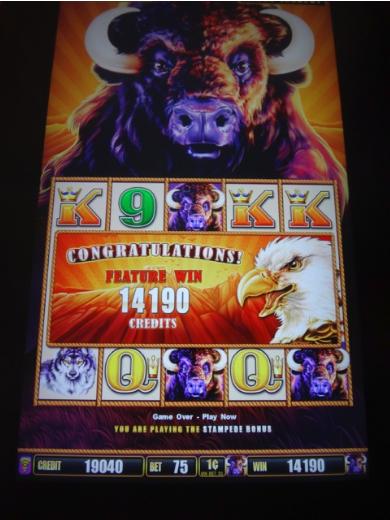 Buffalo - the latest stampede version has so many great new features, but still manages to keep all the magic of the original - a superb game!
Buffalo Stampede Slots - illustrating the elongated screen on the Buffalo Stampede game, which now costs a whopping 75 cents per spin minimum to play.
Left Picture - shows a spin just after the buffalo have stampeded all the way up, causing the screen to elongate. got some nice lines out of that one.
Right Picture - on first look, this doesn't seem like a winning spin, but look again. Those four buffalo in the hoops (lassoed) appeared at random and gave out a nice surprise win (3x2x1x1) = 6 x 4 buffalos in a row.
Bonus Time - look out, here comes the buffalo - love the way the buffalo stampedes towards you when the bonus has been triggered by getting 3 coins
Buffalo Stampede Free Spins - in the bonus, all of the wild symbols pay out 2x or 3x, which makes a huge difference to any wins you get.
Left Picture - shows how a win can be transformed by the lassoed buffalo combined with multipliers - here, I got an amazing (3x2x3x1x2) = 36X multiplier and that is with 5 buffalo in a row. I went home happy on that one!
Right Picture - the final result of my free spins = $141.90 from a 75 cent spin
Buffalo Stampede Video - it's a marketing video from the company that makes it, aimed at the casinos, but it shows a lot of the new features very nicely.